The Internet is capable of taking people from famous to beloved in an unhealthy fashion. It gives some people an opportunity at a fame they never would have encountered and others a chance at simply boosting their current popularity. All of these ladies can be found being drooled over at all corners of the web.
1.  Emma Watson
Emma Watson has gone from dorky little Hermione Granger to super hot babe. It's a transformation that was hard to see coming but no one is complaining about now.
2.  Kate Upton
Kate Upton may be the single greatest contributor to quality GIFs ever. Her goofiness combined with almost hypnotic boob bouncing is just the perfect storm.
3.  Zooey Deschanel
Zooey was once atop the nerd girl universe. And while her growing popularity in the mainstream and over the top quirkiness have brought her back down a little in recent memory, she still remains one of the Internet's most prized ladies.
4.  Olivia Munn
Olivia Munn is the kind of girl all guys think they have a chance with because she's so weird. She's not stuck up or high maintenance. But then you remember how hot she is, and all of your hopes and dreams come crashing back down to reality.
5.  Mila Kunis
Take away all of Mila's other work and just keep the lesbian scene with Natalie Portman in Black Swan, and you have all the reason you'd ever need to giver her a spot on this list.
6.  Aubrey Plaza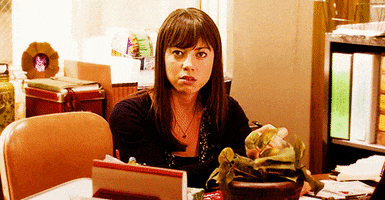 "Guys, guys!! Aubrey Plaza hates people just like we do! Man, isn't the rest of the world just so dumb. But not Aubrey. She gets it." Except here's the thing, she'd probably hate you, too, you fedora-wearing neckbeard.
7.  Katy Perry
It's no secret why the Internet loves Katy Perry. It's actually incredibly simple. Boobs. The Internet likes boobs. And she's got some good ones.
8.  Emily Ratajkowski
That 'Blurred Lines' song had something for everyone. If shitty pop music isn't your thing, that's cool. Because for you, you got to watch models like Emily Ratajkowski dance around with no clothes on.
9.  April O'Neil
April O'Neil is a porn star. So yeah, the Internet automatically loves her since like 99% of the Internet is porn anyway. But aside from that, she also likes to cosplay as the character from Teenage Mutant Ninja Turtles. So not only do you get to watch her naked, but she's also capitalizing on the nostalgia of 80s and 90s kids everywhere.
10.  Emma Stone
Emma Stone is yet another example of an attractive girl who seems down-to-earth. She's goofy and doesn't seem too uptight. It's just another instance of the Internet getting a false sense of confidence that they could actually go out with her if they got the chance.
11.  Jessica Nigri
Jessica Nigri makes a living out of doing cosplay. But she's also mastered the art of appealing to the average Internet dweller. She's so incredibly good at flirting without ever having to actually reveal anything it's insane. So keep bouncing around like a jackass, Jessica, and we'll keep watching.
12.  Jennifer Lawrence
Last but certainly not least is Jennifer Lawrence. She has truly captured the heart of people everywhere. She likes food, doesn't give in to appearance stereotypes, and she's really cute. While love affairs with some of these other women will fade out, JLaw really has the power to stick around. Here's to hoping for an endless supply of dumb faces that we can make into GIFs!